Once you have Installed Valkyrie Anatomia, it's time to start playing. Here's a quick look at the screens you'll only see as a new player.
The first thing you'll see is the standard Terms of Service notice. This states the usual: that you won't have multiple accounts, that you won't cheat or reverse engineer the software, and that you agree to behave nicely in the community. The green button will show you the complete Terms of Service, the blue button will reject the terms of service (barring you from playing the game), and the red button will confirm that you agree to follow the Terms and are ready to play.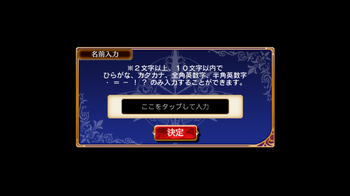 The next screen is for name entry. Your name must be between 2-10 characters long and not contain special characters. English characters are allowed.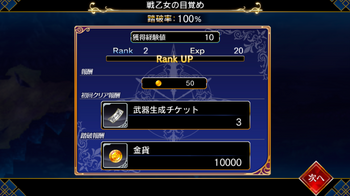 The tutorial is fairly straightforward - you can figure out most of the basic gameplay just from looking at the screenshots it shows you, and the game will often highlight where to click next. You can get further help on these topics at Top Menu and Battle. Once you are done with the tutorial, you will receive three Gacha tickets and 10,000 gold to start you off. This will allow you to reroll for a nice starter weapon, if you'd like.